UC San Diego Housing Resources
Click on the drawers below to learn more about UC San Diego's on and off-campus housing, as well as Basic Needs Off-Campus Housing resources for enrolled undergraduate and graduate students.
Undergraduate On-Campus Resources:
Graduate / Family Housing On-Campus Resources:
Students, staff, and faculty may visit our Basic Needs Off-Campus Housing website to search for roommates and create their own roommate profiles, and review property listings for rooms, apartments, and shared rentals. 
Have a Listing or a Sub-Lease? Add it to our website and share it with your greater Triton community!
Visit our resource page on the Off-Campus Housing website to access off-campus housing information.
The City of San Diego is offering a
Housing Instability Prevention Program
that if eligible will pay $500 per month for up to 24 months for qualifying households in the City of San Diego and assist with housing-related expenses such as security deposits, past-due rent, utilities, application fees or furniture, depending on the family's need. Payments are made directly to the approved vendor, such as the landlord or utility company.
Transit-Efficient Housing in San Diego:
When exploring housing options, consider your commute. Selecting housing in a neighborhood with great transit service can make your commute faster, more reliable, more productive and lower impact all while helping you save money.
These routes offer some of the fastest and most reliable one-seat rides to the La Jolla campus. Looking for housing within a brief 5-6 block walk or 1-mile bike ride from these transit centers could make your commute significantly more efficient.
UC San Diego's Transportation Services and UC San Diego's Case Management Services have compiled the below information on San Diego neighborhood's near transit service lines.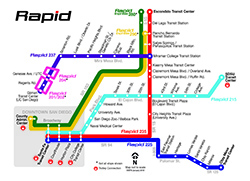 Consider neighborhoods along the Rapid 237 express bus line. (map)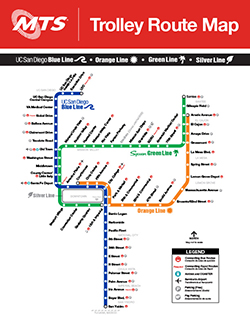 Consider neighborhoods along the UC San Diego Blue Line trolley, arriving on campus November 21, 2021. (map)
Properties along the Trolley Blue Line:
Tecolote Stop
Clairemont Stop
Balboa Stop
Nobel Stop
Executive Drive Stop
UTC Transit Center Station Stop
City College Stop
Park & Market Stop
Palomar St Stop
The Center is a San Diego LGBTQ+ community center that provides targeted programs and services. The Center provides various housing services including rental assistance, permanent and supportive housing, and emergency housing.

San Diego Youth Services hosts a Temporary Housing for Youth Experiencing Homelessness for foster youth, ages 18-21, and foster youth existing in the system, ages 18-24. 
Culturally Reflective Food in San Diego:

Pacific Islander - Hawaiian Fresh Seafood Market, Leilani's Cafe, Kapu Coffee, Homestyle Hawaiian, Chris Ono Grinds, JJ's Island Grindz, Wahine Kai Shave Ice, Poke Etc, Chamorro Grill, Smack'n Guamanian Grill, Island Pacific Seafood Market
San Diego Local Property Owners working with UC San Diego,

not affiliated with UC San Diego

:  

Money Geek

is a public platform with educational articles that provide consumers with advice & tools helping them access basic needs services.

 

Helpful Off-Campus Housing Search Links: 

Search engine ideas

:

"San Diego Property Managers" or "San Diego Property Management"

to tap in more to other local property owners that are not corporate; complexes that are duplexes, 4 units, 8 units, 16 units etc.

Search engine ideas: "Corporate Housing San Diego"

for transitional housing options often geared towards traveling professionals; apartments are short term and often furnished! 

Affordable Housing Projects

:

Trolley Park Terrace, Encanto – 52 units, 51 affordable

Mayberry Townhomes, Southeastern – 70 units, 69 affordable

Hotel Churchill, Downtown – 73 units, 72 affordable, 72 supportive

Alpha Square, Downtown – 203 units, 201 affordable, 135 supportive

Celadon, Downtown – 250 units, 248 affordable, 13 supportive

Paseo at COMM22, Southeastern – 130 units, 128 affordable, 13 supportive

Victoria at COMM22, Southeastern – 70 senior units, 69 affordable

Atmosphere, Downtown – 205 units, 202 affordable, 41 supportive

Ouchi Courtyards, Encanto – 45 units, 44 affordable, 7 supportive
The

 
Housing Help San Diego website
 is 
a one-stop resource to support San Diegans struggling to pay rent, stay housed and understand their housing rights during the pandemic.