About Us
Since the launch of the UC Global Food Initiative in 2015, UC San Diego has taken strategic action to ensure students have access to a variety of resources to meet their Basic Needs.
We are carrying out a charge of priorities set for Basic Needs security so that each UC San Diego student has the opportunity to focus on their academic excellence. 
As a passionate campus community ally, it is our highest goal to serve students with respect, offer referrals to on and off campus resources based on their Basic Needs to increase accessibility to food, housing, and financial resources. 
Connect with us!
If you have concerns with access to one or more than one type of Basic Needs resource, please complete a Basic Needs Assistance Form. We would love to connect with you as thousands of students face these same challenges each academic year.
Fill out a Basic Needs Assistance Form to get started:
Services
UC San Diego Basic Needs Initiatives is a collection of services provided by campus partners to work with both undergraduate and graduate students who have concerns with access to Basic Needs resources. The Hub's services are categorized by Food Security, Housing Resources, and Financial Wellness.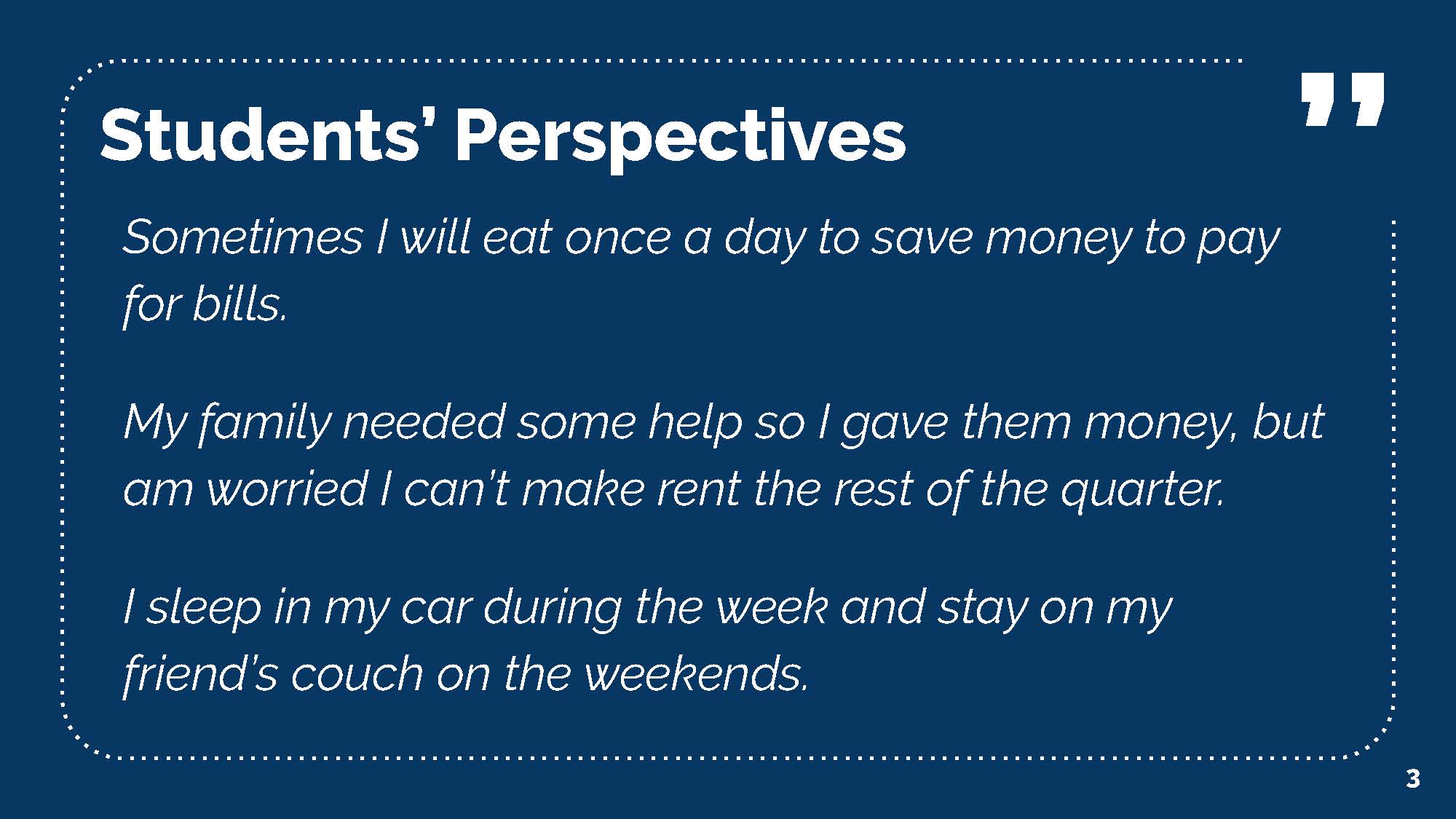 Students' Perspectives
What are some common basic needs challenges UC San Diego students face?
Basic Needs Services Testimonials
"I got CalFresh!! Thank you so much for helping me with this. I don't know what would of happened if it wasn't for you! The money that I get to use for food will help me to eat well everyday!"
"And thank you so much…I appreciate this immensely I thought it was a lost cause and that there was nothing I could do from where I was standing, thank you thank you!!
"I just checked the mail today and was approved for CalFresh benefits :-) I sincerely want to thank you for helping me navigate the application process. You were very helpful and patient. I feel so relieved that I can budget for more meals throughout the day and week."